Prototype Tours
PROTOTYPE TOUR – A
Bombardier Transportation
Thunder Bay Rail Manufacturing Plant
Bombardier has a well earned reputation as the pre-eminent commuter coach builder in North America. It is also the leading builder of most tracked passenger carrying vehicles and the plant in Thunder Bay acquired from UTDC is where it all happens. From bi-level commuter coaches for virtually all the commuter railroads of North America, to subway cars and multiple unit street cars this plant is building them all. This huge plant employs more than 1300 people in a two shift operation. In addition to the main plant that we will visit there are several supporting operations elsewhere across the city of Thunder Bay. Participants on this tour will not be able to take pictures in the plant and will be required to comply with all safety and other requirements for the safety and well being of everyone.
Part of a new TTC subway train being transported from Thunder Bay to Toronto.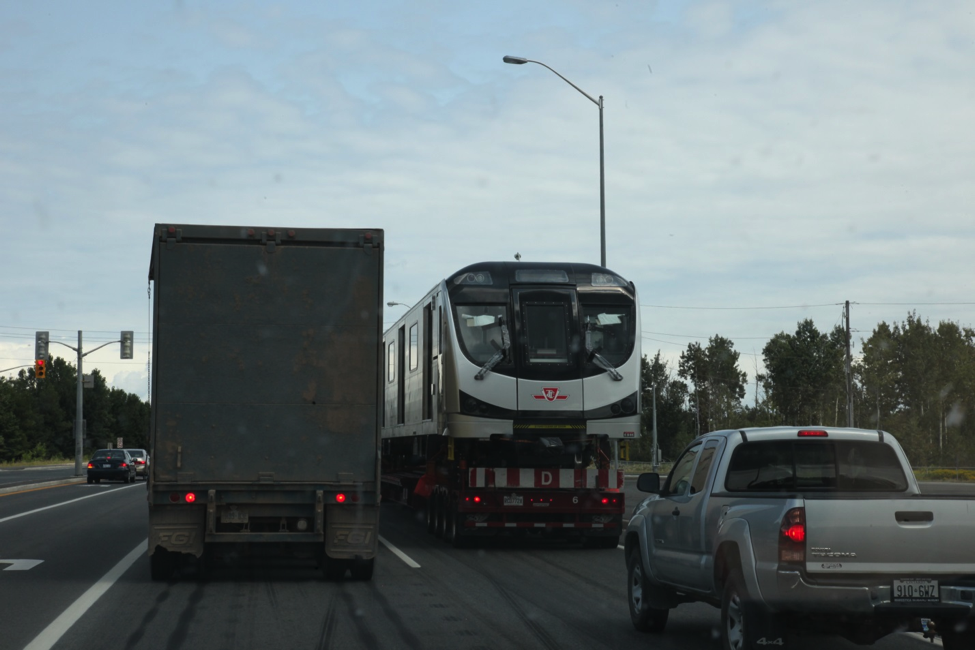 The relics of Renaissance cars that were left overs from the rebuild program by Bombardier for VIA Rail.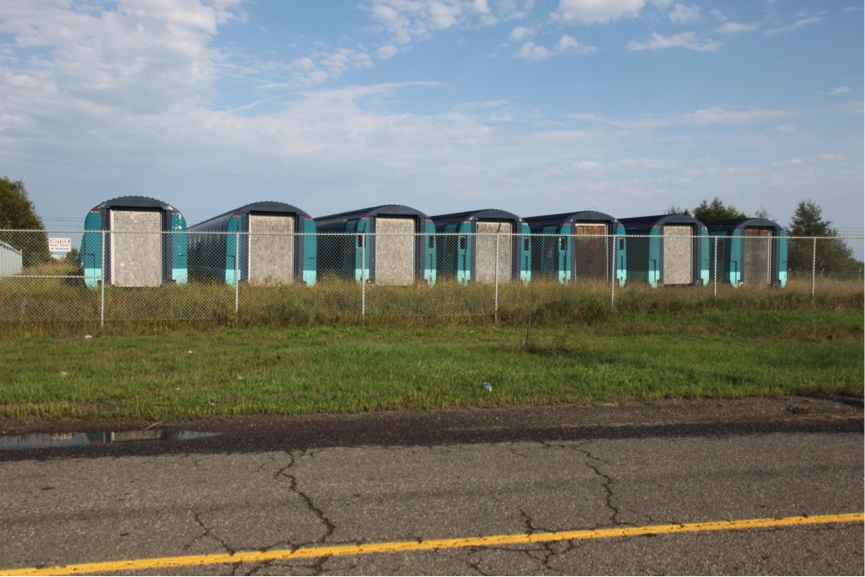 A new Sunrail cabcar commuter coach being delivered from Thunder Bay by CP, passing over the Depew River bridge 20 kilometres east of White River.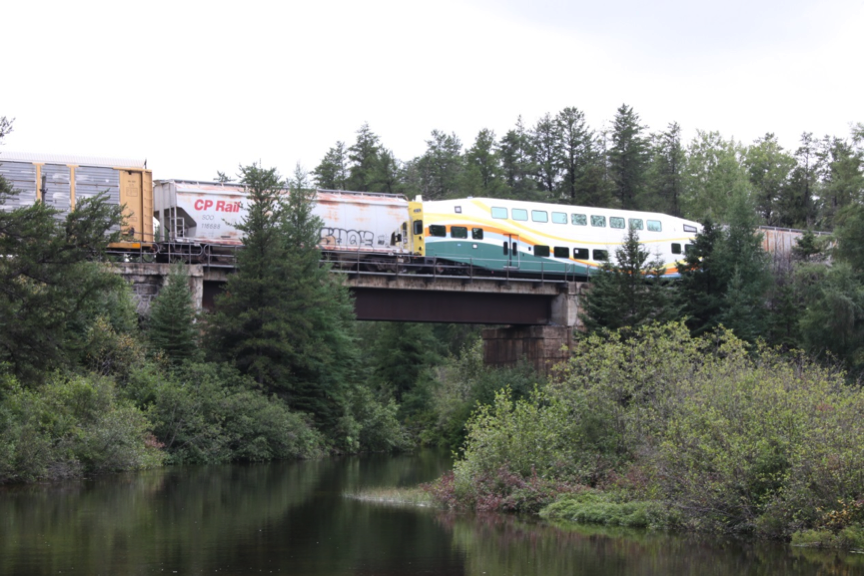 ---
PROTOTYPE TOURS - B
Thunder Bay Terminals Ltd.
Thunder Bay Terminals was established more than 30 years ago as a transfer facility from rail to marine for the growing thermal coal demand by power stations around the Great lakes. With the decline in thermal coal demand the company has developed new business handling metallurgical coal, potash and a variety of agricultural products. The facility occupies most of McKellar Island and is served by rail access from CNR and CP leading into a large circular track plan allowing unit trains to unload continuously through thawing sheds and rotary dumpers. Stackers store coal until reclaimers are used to load the ships. The company also has rail trackage to store large numbers of cars.
Note: This tour will have a limit on the number of participants so make your reservation early.
Aerial view of the Terminal facility with CP unit potash train coming around the unloading loop track (photo from Thunder Bay Terminals website)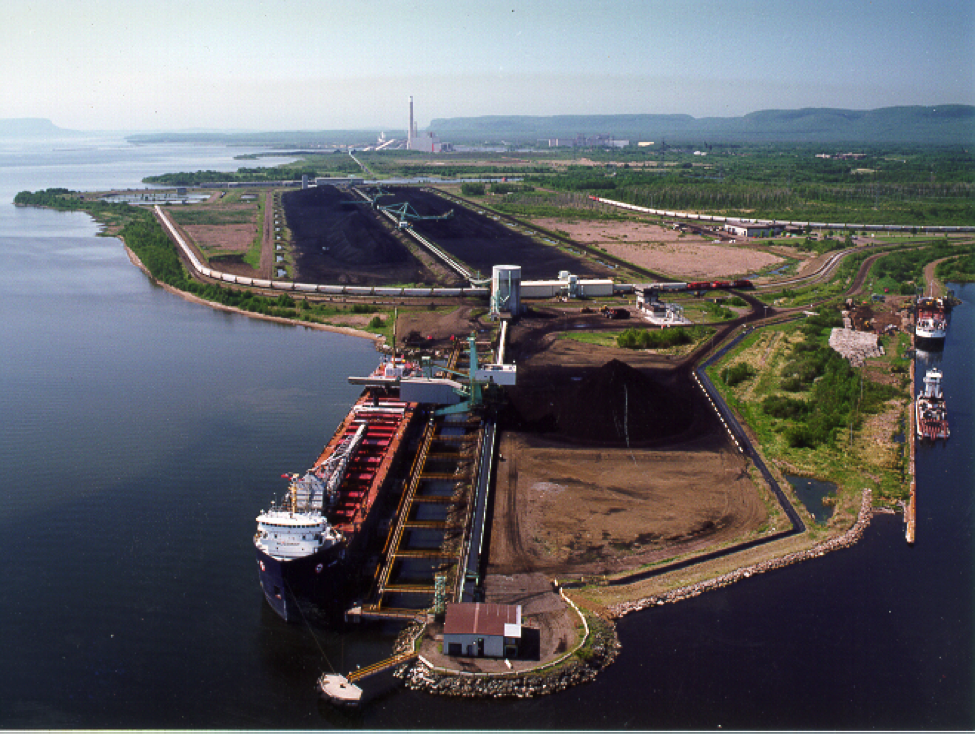 Double track bascule bridge provides rail access to McKellar Island, Thunder Bay Terminals facility. The second track now is a roadway.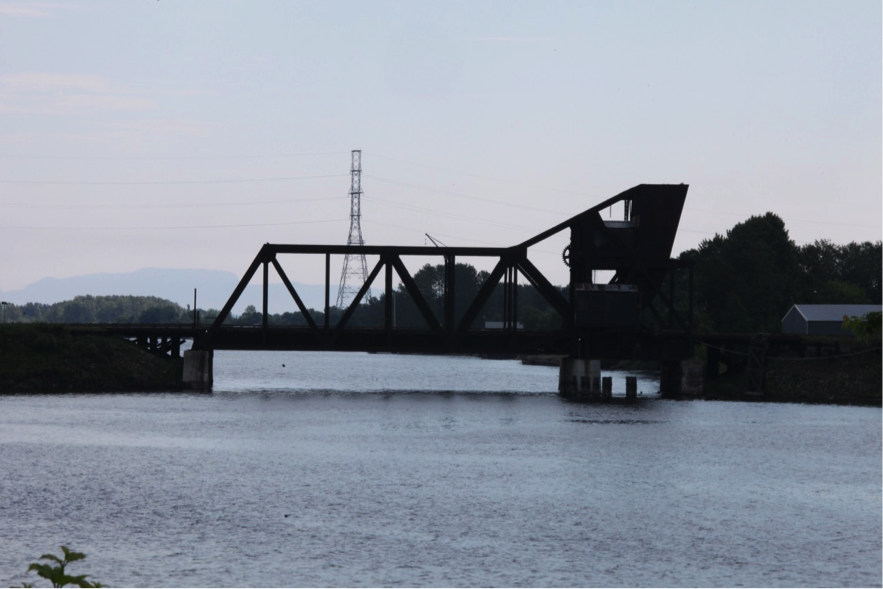 CN locomotive on the front of a unit coal train unloading the coal at McKellar Island.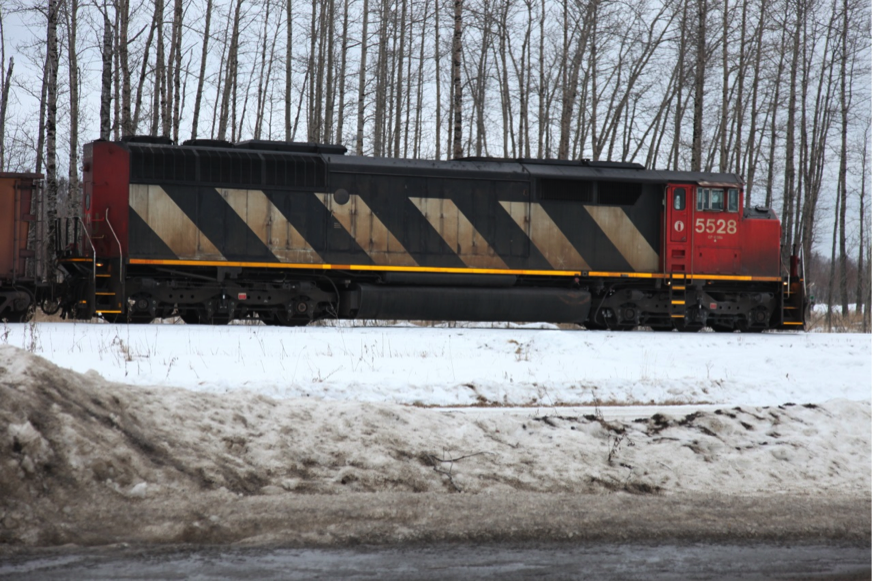 ---
PROTOTYPE TOURS - C
Richardson International Grain Elevator Complex
Richardson International operates one of the larger grain elevator terminal complexes along the Thunder Bay waterfront. During the shipping season which runs from March until early January the terminal loads ships with 1,880,000 – 1,900,000 tonnes of products representing the contents of 25,000 rail cars.
Note: This tour will have a limit on the number of participants so make your reservation early.