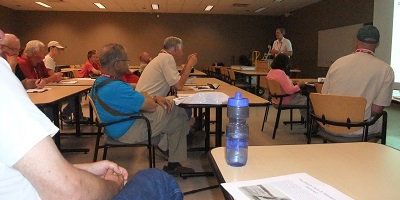 2012 Regina Clinic (Bill Stahl "Historical Freelancing")
POSTPONEMENT
The 2020 Toronto CARM Convention has been postponed due to the risks associated with the outbreak of the Covid19 virus.
A revised date will be announced once it is clear that the convention can proceed without risk to delegates, organizers, clinicians, layout hosts and others involved in the successful execution of this event.
The Spring 2020 issue of The Canadian as well as the Winter 2020 issue carry articles describing some of the layouts which will be on display for delegates to the future convention. Keep these issues for future reference.
See the HOME page for more information.
---
The 2020 Toronto CARM Convention clinics will be presented in our convention activity room from 2 pm to 5 pm and from 7 pm to 11 pm on Friday May 8, and from 8 am to 11 am on Saturday May 9.
The convention activity room location will be announced in March.
The proposed presenters and topics are:
Clinic Abstracts
This talk will explore the background to these figures and show what a remarkable operation this was. This achievement was even more remarkable considering that the motive power was an eclectic mix of steeple cab electric locomotives and 0-4-0 and 0-6-0 saddle tanks. The author's On3 layout and scratch-built unique locomotives will supplement history in bringing reality to this hidden railroad serving the "Hidden Creek Mine" at Anyox in Northwestern British Columbia.
All clinics are subject to change.
Updated 2020/03/27 IM