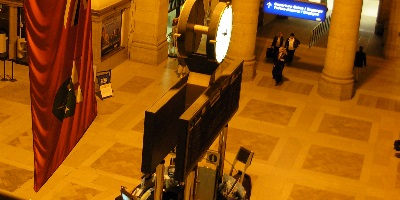 Toronto Union Station Clock and Schedule
The 2020 Toronto CARM Convention will be held from 1 pm Friday May 8 to 5 pm Sunday May 10, 2020.
All activities at the college will be held in our convention activity room.
The convention activity room location will be announced in March.
The schedule is not final. All times, clinics and layouts are subject to change.
Friday May 8:
1 pm: Registration Desk opens.
1 pm: Model / Photo Contest setup opens.
2 pm to 5 pm: Clinics.
5 pm: Model / Photo Contest setup ends and voting begins.
5 pm to 7 pm: Meet and Greet.
Registration Desk may be closed during the Meet and Greet.
7 pm to 11 pm: Clinics.
9 pm?: Registration Desk closes until Saturday.
11 pm?: Model / Photo Contest voting ends
Saturday May 9:
Sunday May 10:
Updated 2020/02/06 IM