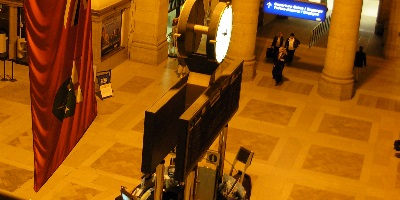 Toronto Union Station Clock and Schedule
POSTPONEMENT
The 2020 Toronto CARM Convention has been postponed due to the risks associated with the outbreak of the Covid19 virus.
A revised date will be announced once it is clear that the convention can proceed without risk to delegates, organizers, clinicians, layout hosts and others involved in the successful execution of this event.
The Spring 2020 issue of The Canadian as well as the Winter 2020 issue carry articles describing some of the layouts which will be on display for delegates to the future convention. Keep these issues for future reference.
See the HOME page for more information.
---
The 2020 Toronto CARM Convention will be held from 1 pm Friday May 8 to 5 pm Sunday May 10, 2020.
All activities at the college will be held in our convention activity room.
The convention activity room location will be announced in March.
The schedule is not final. All times, clinics and layouts are subject to change.
Friday May 8:
1 pm: Registration Desk opens.
1 pm: Model / Picture Contest setup opens.
2 pm to 5 pm: Clinics.
5 pm: Model / Picture Contest setup ends and voting begins.
5 pm to 7 pm: Meet and Greet.
Registration Desk may be closed during the Meet and Greet.
7 pm to 11 pm: Clinics.
9 pm?: Registration Desk closes until Saturday.
11 pm?: Model / Picture Contest voting ends
Saturday May 9:
Sunday May 10:
Updated 2020/03/25 IM