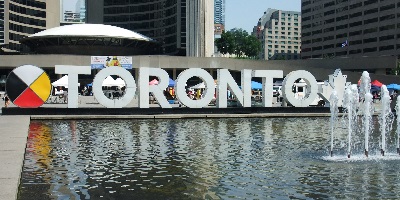 Toronto Sign at City Hall
The 2020 Toronto CARM Convention will be held from 1 pm Friday May 8 to Sunday May 10, 2020.
There will be a Meet & Greet, CARM Annual General Meeting (AGM), Clinics, Home Layout Tours and a Model / Photo Contest. There will also be an extensive Non-Rail activity list for family members. Click on the underlined items or on the menu items above for more information.
The convention location is Humber Lakeshore Campus, in southwest Toronto between Lakeshore Drive and Lake Ontario, at Kipling Avenue. The address is 3199 Lake Shore Blvd West, Etobicoke, ON M8V 1K8, and the Residence is there,
The convention activity room location will be announced in March.
Click on "Location" in the menu above for directions and maps, including what driving or transit route to take, where to park, and how to find the convention activity room.
We recommend registering in advance, before March 31, 2020. See "Registering" in the menu above. Registering by March 31, 2020 will cost $10 less than at the door.
ALL model railroaders are welcome, not just CARM members. Being a CARM member will cost you a little less.
If you want to join CARM or renew an expired membership to get the member discount, click on "Joining CARM" in the menu above. Annual dues vary from $0 to $36 depending on what you want mailed versus emailed to you.
When you arrive at Humber Lakeshore, come to the Registration Desk located near or in the convention activity room (follow the signs). It will be open on Friday May 8 from 1 pm to 9 pm? except during the Meet and Greet, and open again on Saturday May 9 from 8 am? to 10 am when the AGM starts. (Times are not final.)
The advance registration convention price is $65 for CARM members and $75 for nonmembers.
At the door it will be $75 for CARM members and $85 for nonmembers.
There are lower prices for spouses / partners and youths 6 to 16 not going to clinics or layout tours (for example, those going to events listed in the "Non-Rail" menu above).
Children under 6 are free but must always be accompanied by an adult.
Click on "Registering" in the menu above for price details.
Transportation, parking, meals other than the Meet and Greet, and a room if needed are not included in the convention price.
If you need a place to stay, see "Residence" in the menu above.
Using tobacco, vaping or cannabis is not allowed on Humber property.

Most of these pages except the Registration Form print better in landscape than portrait mode. The Registration Form needs portrait mode and may need narrow or no margins.
Updated 2020/01/29