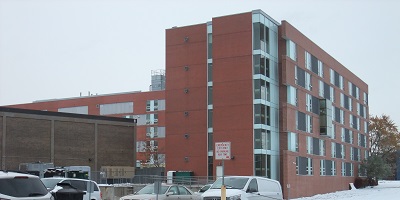 Humber Lakeshore Residence (from the south east)
POSTPONEMENT
The 2020 Toronto CARM Convention has been postponed due to the risks associated with the outbreak of the Covid19 virus.
A revised date will be announced once it is clear that the convention can proceed without risk to delegates, organizers, clinicians, layout hosts and others involved in the successful execution of this event.
The Spring 2020 issue of The Canadian as well as the Winter 2020 issue carry articles describing some of the layouts which will be on display for delegates to the future convention. Keep these issues for future reference.
See the HOME page for more information.
---
If you need a place to stay, we suggest a room at the convention location, in the Humber Lakeshore Residence. You may of course stay elsewhere if you prefer, but the residence is convenient and less expensive than a hotel.
We do not handle residence arrangements directly, but information about the Humber Lakeshore Residence is below, and you can use the 2020 Toronto CARM Convention "Portal" below to reserve a two-room suite at the convention rate.
CARM has a block of 10 two-room suites reserved until March 9, at $82 + HST per night for our convention. After March 9 this block and this price may not be available.
If you want to stay at the Humber Lakeshore Residence after the CARM block of suites are all booked:
Starting mid-April, suites will be available to the general public via a different portal. Information on that portal will be added here when we get it. Once it is, contact Humber College at that portal. Make sure they know you want to stay at the Humber Lakeshore Residence (not Humber North Residence).
You will also be able to book a room possibly at Humber or definitely elsewhere using one of: www.trivago.com, www.booking.com, www.hotwire.com, www.expedia.ca, www.priceline.com, www.airbnb.ca, etc.

Something to be careful about, whereever you stay: If you are sharing accomodations with someone, only one of you should reserve and pay. If you both reserve, you will each be given and charged for a separate place.
Humber Lakeshore Residence Suites
| | | |
| --- | --- | --- |
| Humber Lakeshore Suite Kitchen | Humber Lakeshore Suite Both Rooms | Humber Lakeshore Suite Room |

Humber Suite Top View
Humber Lakeshore Residence only has suites, not individual rooms.
Each suite has a kitchenette with a fridge, microwave, two chairs and a table, a washroom with shower, and two separate lockable bedrooms each containing a double bed, closet, desk and chair. Dinnerware and cutlery are not provided.
Photos are above and an overhead view of a similar suite is to the left.
Wireless access will be available.
Wired internet access may be available. You will need to bring your own cable to use it.
There are also shared lounges.
Checkin is after 4 pm Friday and checkout is before 10 am Sunday.
More information, including rules (eg, no smoking, no pets, etc.), is at humber.ca/conference/lakeshore-campus-accommodations. Be sure you read the "Lakeshore Campus" section, not the "North Campus" section. Information is also available at humber.ca/residence/amenities-services.
The residence is Building R at the north end of Building A.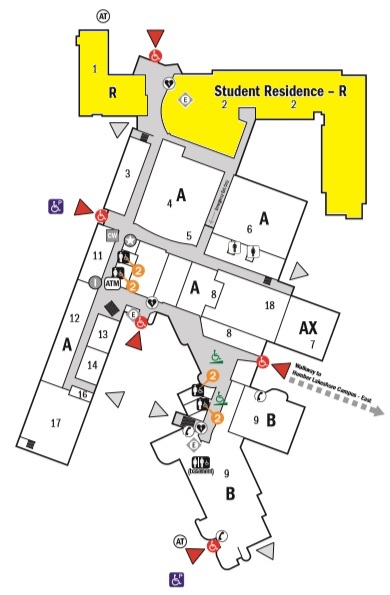 Humber Lakeshore West Buildings - Residence is in yellow.
Booking a suite via Humber's 2020 Toronto CARM Convention "Portal":
Click on CARM Convention Portal which takes you to https://bit.ly/39YVB99.
The Group Name will be "Canadian Association of Railway Modellers". The Dates will be "May 8th - May 10th 2020" which means Friday night May 8 and Saturday night May 9. The reservation type will be "Double Suite". The price will be "$82.00 + H.S.T. per night (max 4 occupancy)".
Scroll down to the bottom and click on "Sign Up".
If you have issues with the online reservation and payment system, call 416-675-5027 Monday to Friday 8 am - 4 pm.
If you are unable to book a suite after contacting Humber College, please email Ian McIntosh at ianmc@eol.ca.
Only 10 double suites have been reserved for CARM, and the reservation probably expires after March 9, so book early. After the expiry date or when the 10 reserved double suites have been taken, you may still be able to book through the Humber booking system, but not through the CARM Portal, and the price will be a little higher ($90+HST).
Updated 2020/03/25 IM