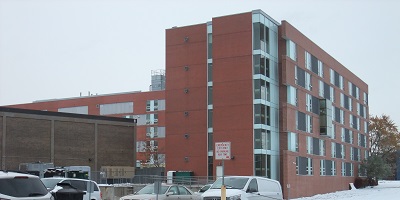 Humber Lakeshore Residence (from the south east)
If you need a place to stay, we suggest a room at the convention location, in the Humber Lakeshore Residence. You may of course stay elsewhere if you prefer, but the residence is convenient and less expensive than a hotel.
We do not handle residence arrangements, but information about the Humber Lakeshore Residence is below, and more information will be provided here soon to assist you with making your own arrangements.
To stay at the Humber Lakeshore Residence: Reservations do not open until April? Contact Humber College at TBD. Make sure they know you want to stay at the Humber Lakeshore Residence (not Humber North). Please check back here in April for details on contacting Humber College through the special online CARM Portal.
CARM will have a block of 10 two-room suites reserved until March 9, at $82 per night. After March 9 this block and this price may not be available.
Something to be careful about, whereever you stay: If you are sharing accomodations with someone, only one of you should reserve and pay. If you both reserve, you will each be given and charged for a separate place.
Humber Lakeshore Residence Suites
| | | |
| --- | --- | --- |
| Humber Lakeshore Suite Kitchen | Humber Lakeshore Suite Both Rooms | Humber Lakeshore Suite Room |

Humber Suite Top View
Humber Lakeshore Residence only has suites, not individual rooms.
Each suite has a kitchenette with a fridge, microwave, two chairs and a table, a washroom with shower, and two separate lockable bedrooms each containing a double bed, closet, desk and chair. Dinnerware and cutlery are not provided.
Photos are above and an overhead view of a similar suite is to the left.
Wired internet access may be available. You will need to bring a cable to use it.
Wireless access will also be available.
Checkin is after 4 pm and checkout is before 10 am.
More information, including rules (eg, no smoking, no pets, etc.), is at humber.ca/conference/lakeshore-campus-accommodations. Be sure you read the "Lakeshore Campus" section, not the "North Campus" section. Information is also available at humber.ca/residence/amenities-services.
The residence is Building R at the north end of Building A.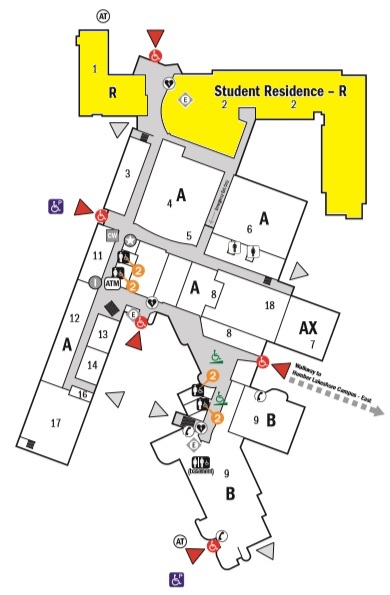 Humber Lakeshore West Buildings - Residence is yellow.
Dotted line is walkway to East Campus including Building L.
Updated 2019/12/26 IM